It all started in Rolla, BC…
The birth of our company started with Glover Lawrence's meat shop located in Rolla, BC in 1931. With the extension of the Northern Alberta Railway to Dawson Creek, many merchants including Lawrence Meat Market packed up and moved to Dawson Creek in 1941.
A short while later, in July of 1943, Joe Lafond joined Lawrence Meats. Soon afterwards, his wife Irene Lafond came on to work as a secretary. One year later in 1944 they bought a half interest in the business and when the company was incorporated in 1956, Joe Lafond became the principal owner.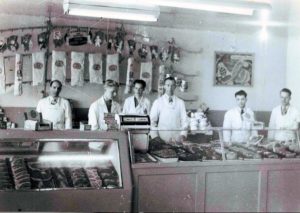 A new slaughter facility was constructed on the outskirts of Dawson Creek and obtained federal inspection in 1966. Prior to that, the company name was changed to Lawrence Meat Packing Co. Ltd.
To this day, the Lafond family still owns and operates Lawrence Meat Packing Co. Ltd. and The Butcher Block retail stores in Dawson Creek and Fort St. John, British Columbia.
With the expansion of our retail business into Fort St. John, we transferred to the BC provincial inspection system. Our focus is on serving BC and the Peace River area in particular.
We pride ourselves on being a locally owned and operated family business. Our focus is on quality, price and service. We also maintain that it is our staff and our valued customers that have made this company a success over the many years (decades!) we have been in business.
Come see how, in this modern age of big box stores and national franchises, we've maintained our status as a community favourite for generations. Maybe we'll turn you into yet another lifelong customer!